Vuforia, market-leading enterprise AR
Vuforia is a comprehensive, scalable AR platform for the industry. It transforms CAD and IoT data into detailed AR experiences that provide critical information to frontline workers when and where they need it. Getting the right AR technology to you based on your needs is our goal.
The possibilities of Vuforia

Vuforia Engine
More than 800,000 developers have chosen Vuforia Engine's advanced computer vision, robust performance and cross-platform reach, making it the most popular augmented reality software in the world.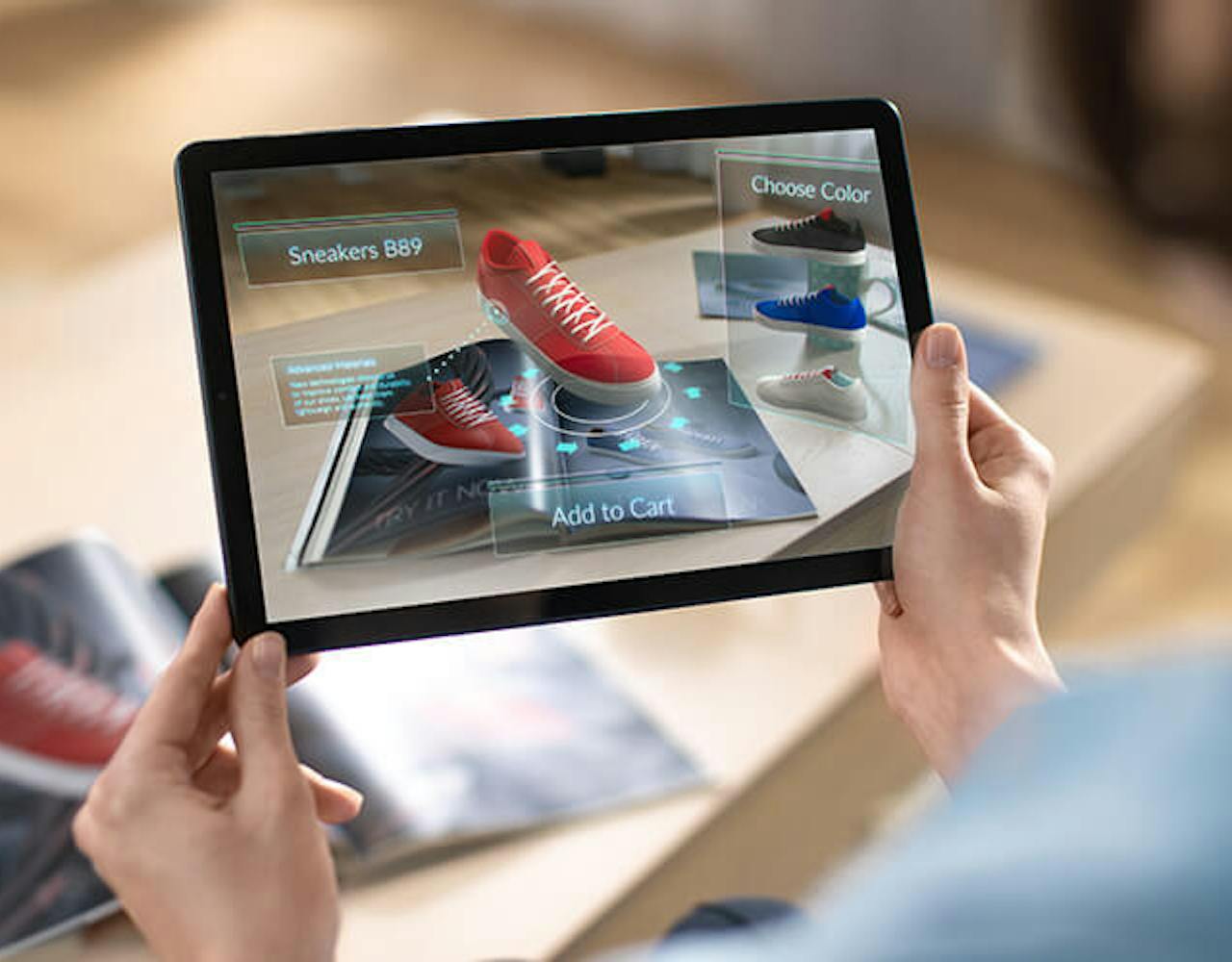 Vuforia Engine offers an advanced technology that companies need in order to differentiate the way they sell and market their product.
Create captivating 3D product demonstrations, and interactive branding campaigns or make applications for your customers so that they can view your products at home and personalize them.
Augmented Reality connects people with products by means of experiences that drive revenue and brand recognition.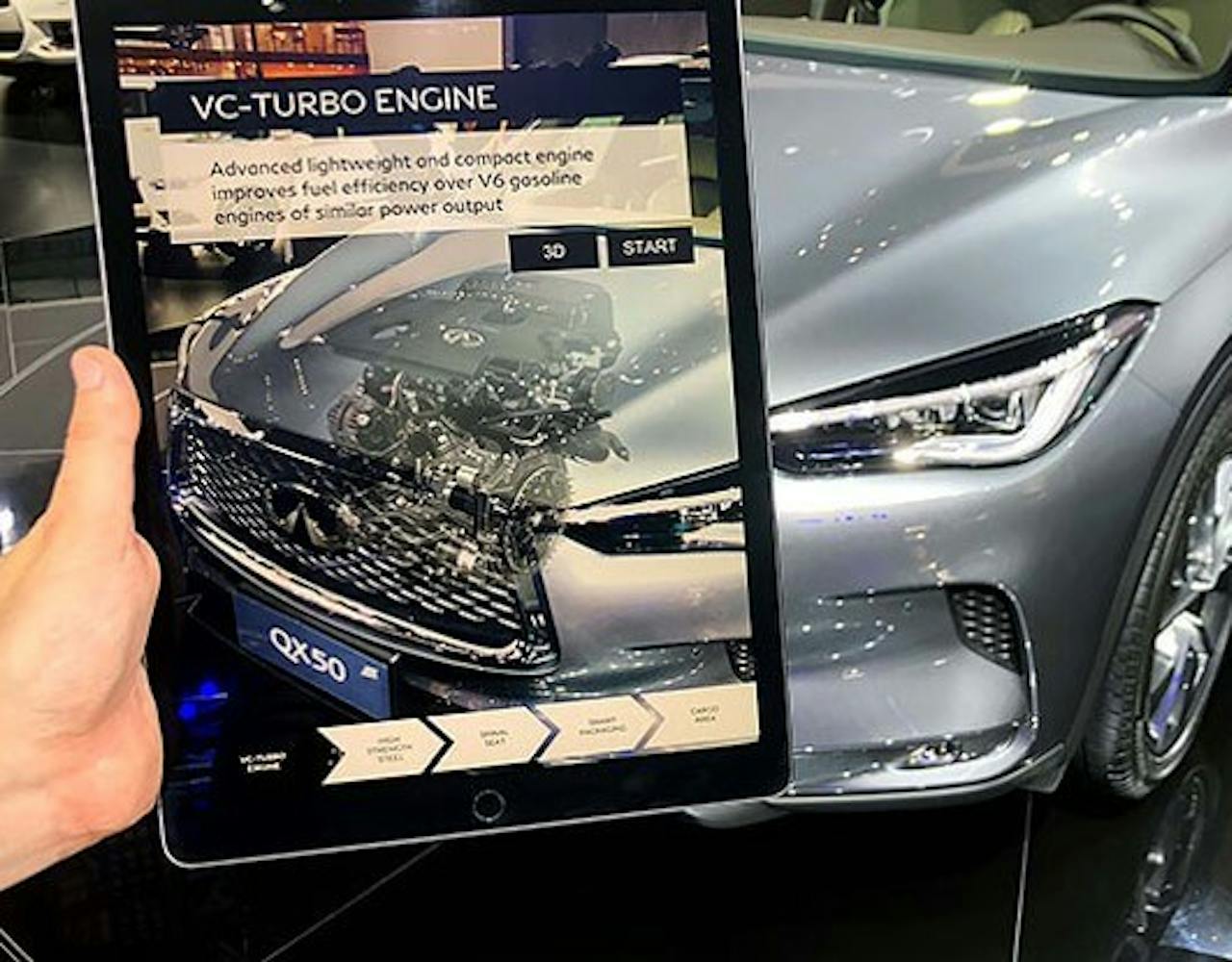 Vuforia Studio
Vuforia Studio can convert your current CAD and IoT data to detailed AR experiences which provide crucial information to frontline workers, where and whenever they need it the most. Realize the value of 3D AR training, instruction and visualizations for:
Increasing the productivity and satisfaction of the employees
Reducing errors and waste because of accidents
Improving customer experiences and competitive advantage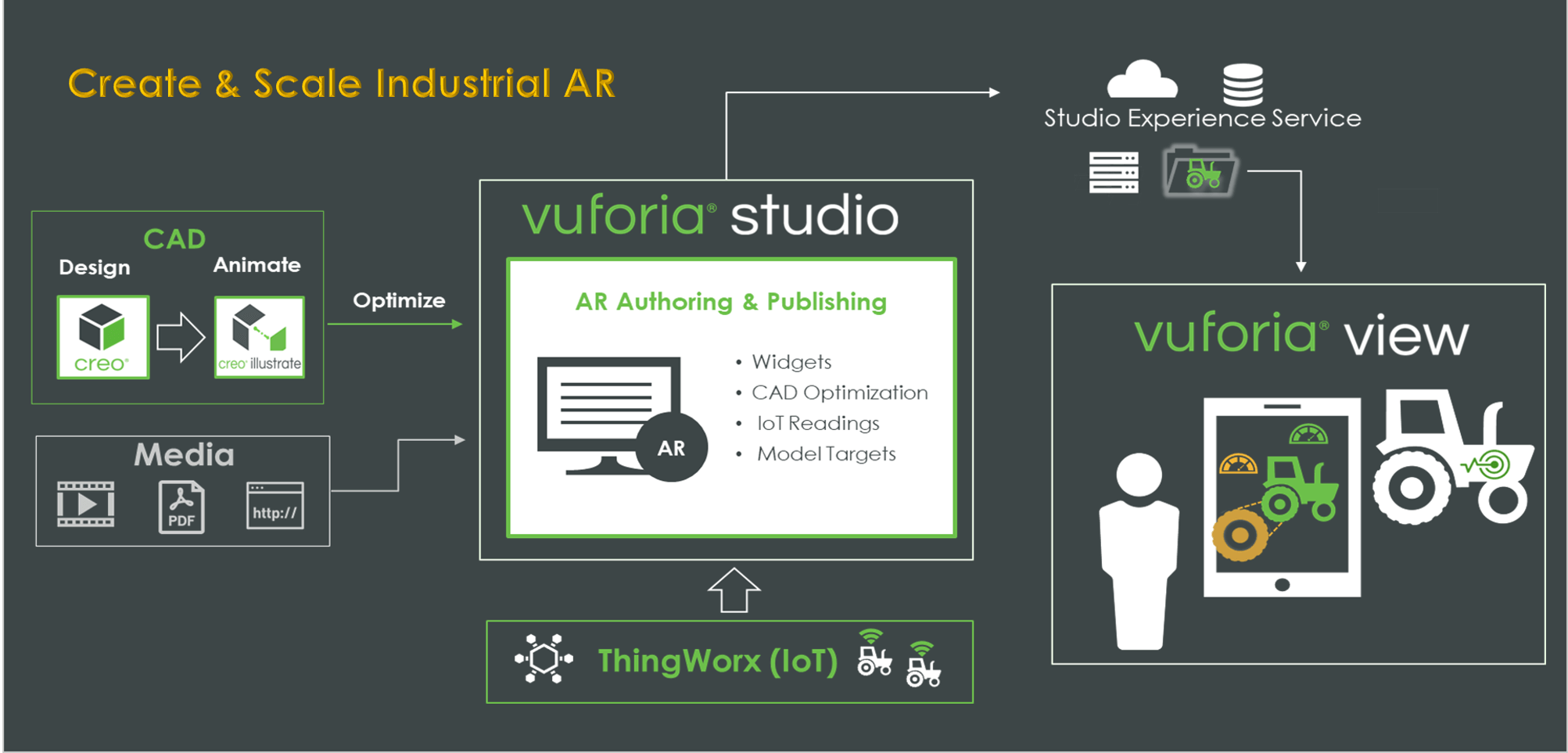 Highlights
Simplify complex instructions
Make use of existing 3D CAD data and animated sequences in order to create intuitive assembly and service instructions, as well as inspection and operating instructions.
Visualize IoT Data
Integrate efficient sensor and contextual IoT data of the ThingWorx platform and business system data. Inject AR experiences with useful insights.
Scalability within the organization
Distribute AR experiences through the whole organization via a single viewer application on your mobile device or headset.
Enrich user experience
Make use of innovative tracking methods for a quicker identification of targets, accurate digital overlays, and the installation of virtual 3D products in real environments.
Vuforia Chalk
Remote support is possible thanks to Augmented Reality. Bring your technicians and several experts together for real-time problem solutions and cooperation.
Remote support based on Augmented Reality makes it possible to support and guide your plant operations and service team based on expertise.
Vuforia Chalk combines advanced AR collaboration tools with real-time video communication in order to let a field technician get in touch with an expert. Hence, they can check the situation and talk about it. Technicians and experts can take digital notes on a mobile screen or desktop, so that they can lead the technician through the process, step by step.
Highlights
Reduce precious time on site
Repair and solve solutions faster by offering real-time AR support to frontline workers from your most experienced team members. Eliminate unnecessary costs and costs associated with recurring visits.
Improve uptime and efficiency
Reduce downtime and find solutions faster by letting your field technicians and customers get in touch with experts who can guide and support them in solving problems and repair processes.
Increase security and compliance
Keep field technicians safe while they maintain dangerous machines and working environments. Enable experts to mark the live view of a technician by means of callouts that indicate specific details, dangers, or steps that have to be taken in order to avoid errors and accidents.
Support customers in self-service
Reduce downtime of customers by offering the possibility to solve problems by themselves. Give your customers expert assistance which they need in order to solve their problems quickly.
Vuforia Expert Capture
Share expert knowledge with your frontline workers. Capture the domain expertise from your most experienced staff in order to train effectively and retrain your employees with procedures and instructions based on Augmented Reality.
Vuforia Expert Capture is the fastest and easiest way to document the years of knowledge from your skilled employees and to share it with the whole organization. With Vuforia Expert Capture your experienced experts can capture step-by-step procedures and best practices while they are working. Moreover, they can convert those insights into reusable process documents, job aids and training material.
Improve installation and conversion, streamline equipment assembly and maintenance, and modernize employee training with Expert Capture's digital, augmented reality-based work instructions.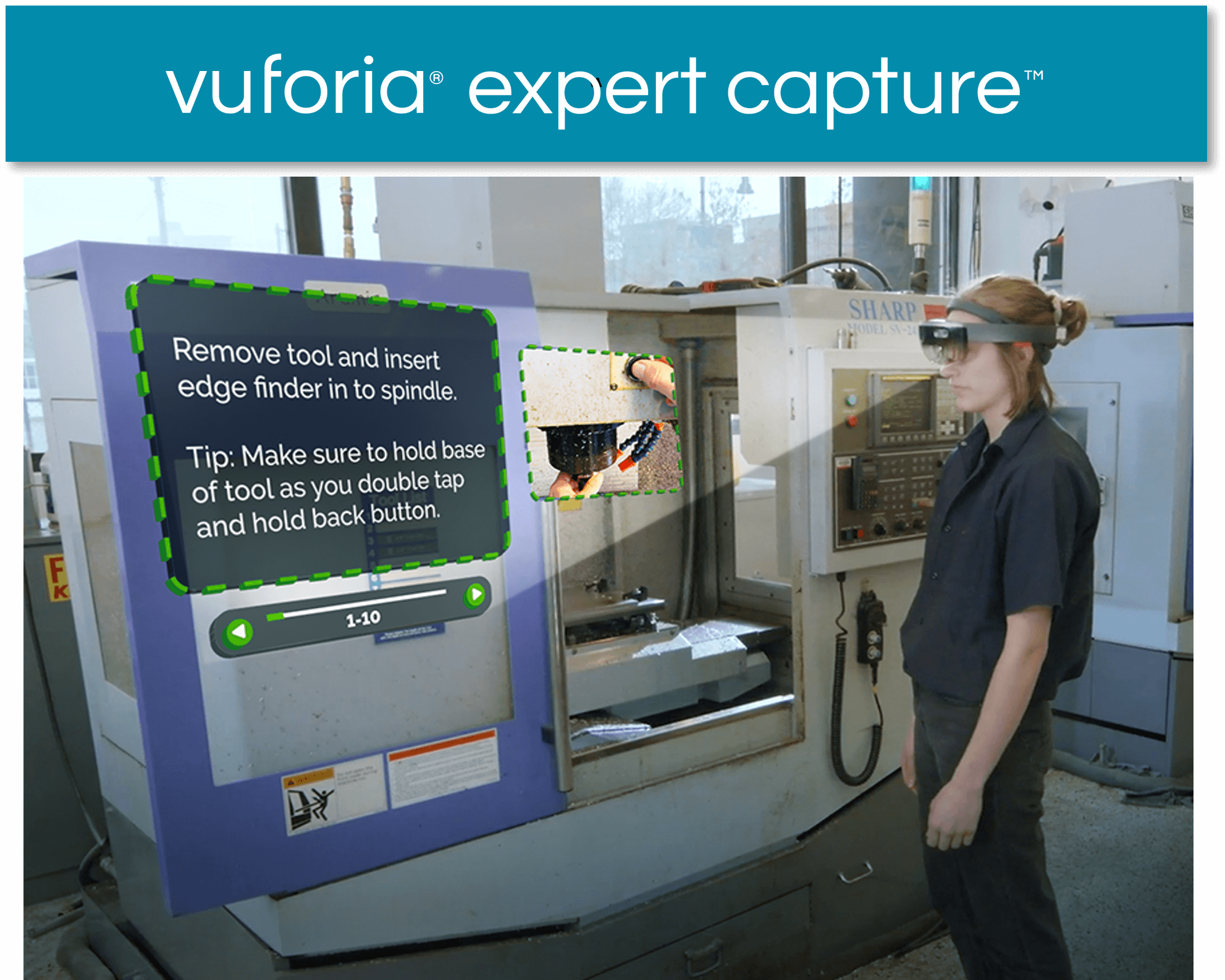 Highlights
Increase the production transit
Give your frontline workers Augmented Reality-driven instructions within the right context which improve the accuracy of their work and ensure that your production line keeps running at an optimal level.
Increase the productivity of your employees
In a complex production process, a simple, step-by-step support for employees ensures that every task is completed successfully. This leads to greater efficiency and productivity of the staff.
Improve safety and compliance
By offering best practices of your experts to the whole organization and by enabling digital traceability at the same time, you guarantee that a procedure is completed, according to safety standards and safety regulations.
Reduce the operational costs
Decrease the number of expensive, personal onboarding and training and improve the productivity of your new employees by means of more effective, digital training tactics and AR support.
Vuforia Instruct
Optimize inspection procedures with Vuforia Instruct. Improve the accuracy and stimulate continuous process improvement with work instructions that are based on CAD.
Vuforia Instruct accelerates and simplifies the creation and the delivering of improved 3D work instructions to frontline workers in order to optimize inspections.
Augmented Reality (AR) work instructions reduce the number of errors associated with traditional training and instruction methods. Moreover, they offer the possibility to capture input regarding specific procedures.
Highlights
Simple AR work instructions
Vuforia Instruct is a ready-made solution that makes it easy for customers to create, perform and analyze work instructions that are based on CAD.
Create quickly and easily
The safe web environment of Vuforia Instruct is accessible anywhere and anytime. With this, authors can make simple, step-by-step contextual instructions. Hence, a lot of those steps, which are normally essential for the construction of AR content, can be significantly reduced.
Optimized procedure performance
Employees can perform their inspections in an efficient way, by communicating clearly about what is wrong (or right), in the easiest and most accurate way. Moreover, a real-time data collection can be tracked.
Integrated report and analysis
An integrated portal enables key stakeholders to be kept up to date regarding usage activities in the workplace and in the field. Therefore, traceability is guaranteed for audit and compliance purposes. Finally, continuous improvement is stimulated.
Make use of CAD investments
Expand the value of 3D CAD to the frontline, by means of informative and easy-to-understand procedures. Hence, guesswork and interpretations become unnecessary.
Scheduled group
training sessions
December 2023