VERICUT
VERICUT ensures that your production performs better and is more reliable, so you can save money with relatively little effort via offline production machine simulation. It is an effective solution for machining parts faster, the protection of CNC machines and cutting tools, longer service life of cutting tools, reduction of the costs, and better surface quality. In short, a perfect solution for all your manufacturing challenges.
Effective solution for manufacturing challenges
Within the world of manufacturing, companies have numerous challenges:
Finding the right people is no easy task today.
Production machines have a very high purchase value and must therefore be able to work continuously.
Trial and error is not an option because machine failure causes expensive production standstills and repair costs.
Enormous competitive pressure from low-wage countries.
Highlights
Continue production during the preparation and testing of CNC programs for the next production run
Protect machines and corresponding tools against collisions, breaks and crashes
Given the large investment a production machine entails, it is obvious that you want to protect your tools and machines from collisions, breaks, and crashes. Testing CNC programs on the machine itself is a big risk, and on top of that, you lose valuable production time.
Verification, simulation and optimization of tool paths are three of the best ways to drastically improve your production, make it more reliable, and save money with relatively little effort.
It is tempting to use the internal verification of your CAM system for this purpose, but be careful...not all verification software works the same way.
In addition, such software is going to simulate the "cutter location" codes from the CAM system and not the post-processed G-codes, which eventually come to your machine.
A single mistake can destroy a workpiece, break a cutting tool, cause a machine crash or even cause injuries. Can you really rely on a "visual check" from an internal simulation program for your machining operations?
Solution
VERICUT software with corresponding Virtual Machine Configuration (VMC) is used to simulate CNC codes within a complete virtual machine environment. It uses the logic of your machine's control system. This way, you can start the program of the machine with confidence to produce immediately, without testing the program on the machine first.
VERICUT makes it possible to reduce the number of scrap pieces and revisions. The system could also optimize CNC programs in order to reduce the production time as well as achieve a higher surface quality of your products and extend the service life of your cutting equipment.
Moreover, it can be used in all industries and with all CAM systems.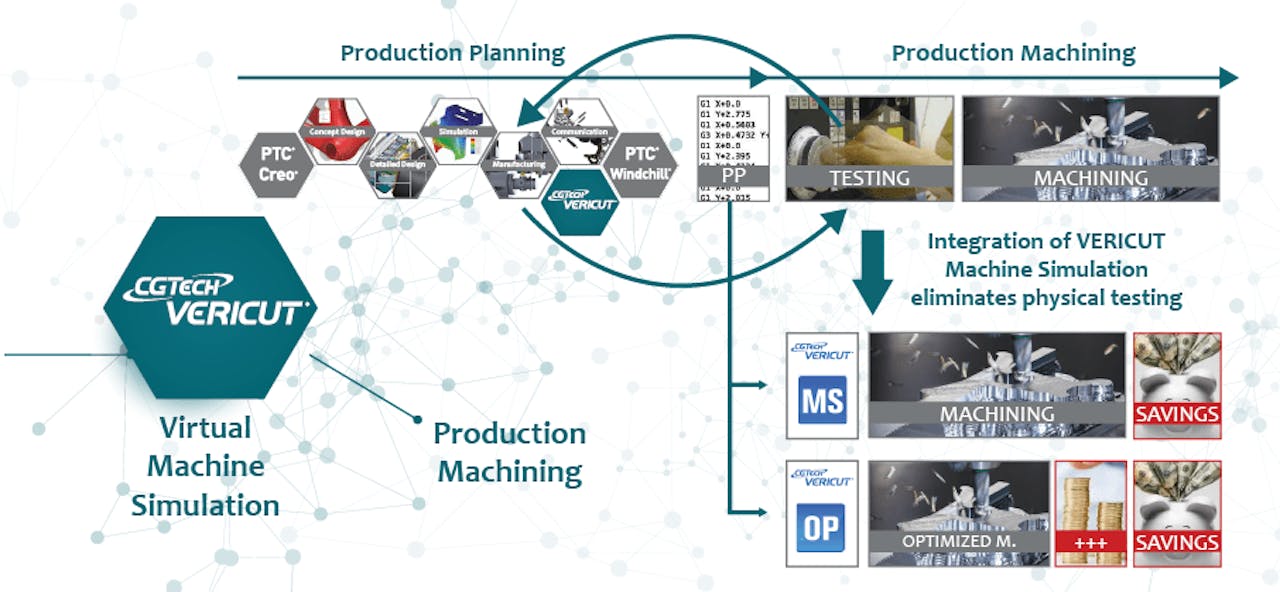 VERICUT Force
During the production process, vibrations cause uneven loading of cutting tools and thus pernicious effects on the machine. Cutting tools wear out and break faster. Moreover, if you cannot control the vibrations the production time increases, the surface quality of the final products is not good and the service life of your machine reduces drastically. VERICUT Force helps you to avoid all these effects and to produce better products in less time, as a result cutting tools and your machine get a longer service life.
Save on cutting tools and production time
Vericut Force optimizes feed rates of CNC machining operations. This optimization is based on the forces that the equipment experiences during the machining process. For every path of the cutting tools, Force calculates the cutting forces, chip thicknesses, the spindle ability, the deflection of the equipment, … at the original programmed feed speed. Subsequently, new feed rates are being calculated in order to get a constant and maximum chip thickness within the limits of the equalized cutting forces.
Why Vericut Force?
It's no secret that there is increasing pressure on CNC machinists. Parts must be produced faster, better and cheaper. Force can help with this as it can reduce machining time by an average of 25%. It also doubles the lifetime of cutting tools (tool life), which is an initially less visible, but significant cost saving.
Flatten the peaks
Standard CNC programs often show peaks in cutting force when the equipment needs to process more. Those peaks result in a heavier load of the cutting tools. Moreover, they reduce the service life drastically and could even result in tool breakage. Vericut Force flattens those peaks by optimizing the feed speed. In case of huge force peaks, Force reduces the feed speed, while it increases the speed whenever the forces are lower. This results in equalized cutting forces, much better service life and an average shorter run time of the program.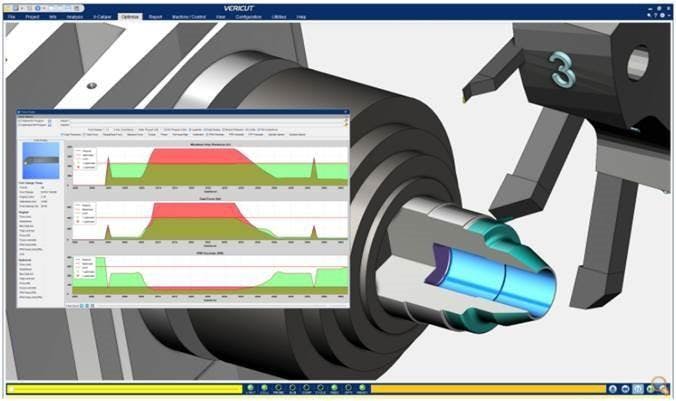 The advantages of Vericut
Machining parts faster
Protection of CNC machines and cutting tools
Considerably longer tool life for cutting tools
Reduction in operating costs
Better surface quality
Scheduled group
training sessions
December 2023
Case in the spotlight
I had been walking around for years with the idea of improving the 3D printer. And now, together with Innoptus, I have made that idea concrete. It has become an innovative product that performs remarkably better than the traditional 3D printer.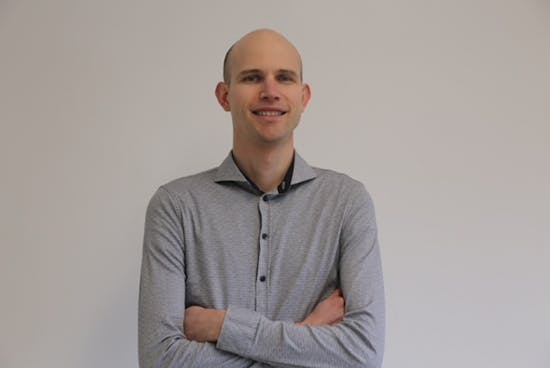 manufacturing
Jonathan Palmaers, Fuse Lab 3D