The fascinating world of smart manufacturing
Next event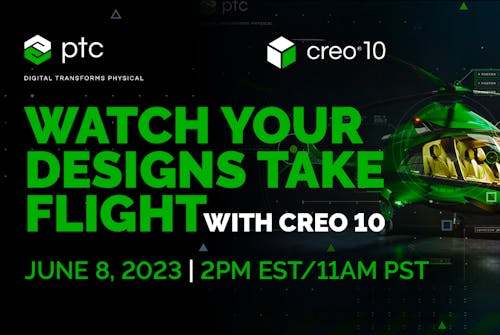 Webinar: Watch Your Designs Take Flight With Creo 10
Global Launch Event: Join PTC June 8th to be the first to hear about the exciting new changes and additions to Creo. This virtual launch event, hosted by the head of CAD Product Management, Paul Sagar, will teach you about the enhancements in Creo 10 and give you an exclusive first look at demonstrations that will show you how to deliver your best designs in less time.
Read more
Upcoming events
Webinar: 3D-rendering with KeyShot
KeyShot is designed to make 3D rendering and animation easy. It allows you to quickly apply materials and lighting, offering the most accurate material renderings and lifelike lighting, all in a powerful interface that offers advanced capabilities and the ability to see all your changes in real time.
Read more >
Webinar: Emerging Technologies with Creo
Create better products faster. Join PTC on June 14 and 15 at 10:00am to talk about Creo's emerging technologies. With David van Och, Gabriel Valls Guixa and Attilio Bellucci.
Read more >
Event: Design Methodology 101
We would like to invite you to our "Design Methodology 101" event on June 22, 2023. Using our knowhow within Innoptus, as a partner for industrial product development processes, we would like to give you several do's and don'ts regarding product development, in order to – independent of your CAD system - improve your design methodology. Afterwards, you will have the opportunity to excercise the learnings within our Creo environment for yourself and work with professional guidance.
Read more >
Previous events
Webinar: What's New in Mathcad Prime 9?
Mathcad Prime 9 delivers dozens of new capabilities and functional enhancements to make solving your engineering calculations more productive than ever! If you are still working with Mathcad 15 or an older Mathcad Prime release, find out what you are missing during our Live Webinar on Tuesday, May 9 at 1pm.
Relive this event >
Webinar: What's New in Creo Illustrate 9?
During the webinar, our Creo Illustrate expert will explain the different improvements and the benefits they can bring to your organisation. The most important enhancements will also be shown in a live demonstration. In this way, you can get a good idea of the innovations in Creo Illustrate 9 and decide whether you want to upgrade.
Relive this event >
Stay informed about our upcoming events
We're happy to inform you as soon as our next event is scheduled. Just leave your email address and you'll be the first to know.
We also offer (tailor-made) trainings
We offer both group training as well as tailor-made training. Take a look at our calendar for our group trainings or let us know if you're looking for a tailor-made training.