Industrial Innovation Symposium
The Industrial Innovation Symposium is a tailor made event where you discover the latest trends in digital transformation, sustainability and SaaS – moving to the cloud - in an atmospheric and classy venue. Be inspired by numerous fascinating keynote speakers and seize this opportunity to share knowledge and to expand your network.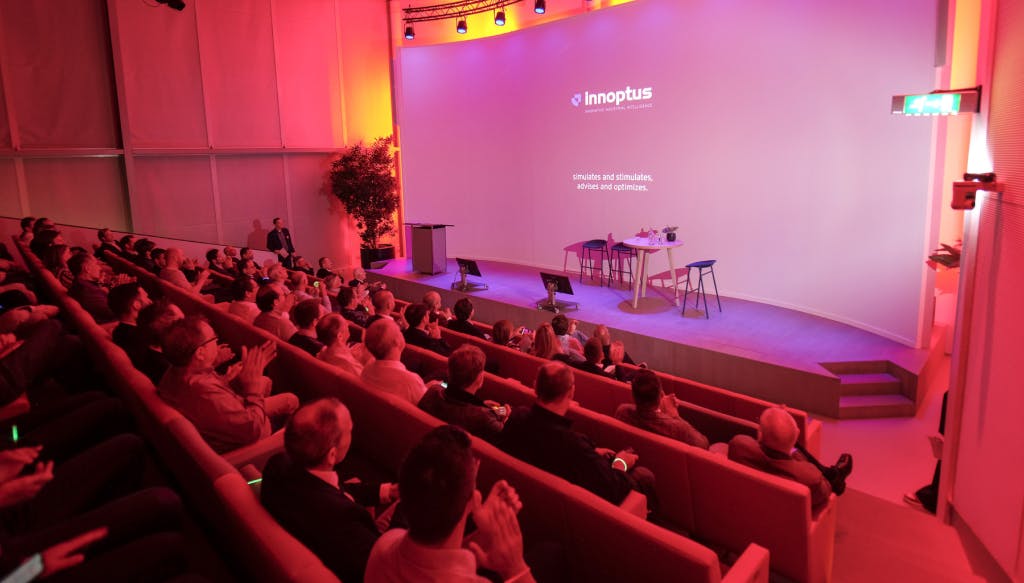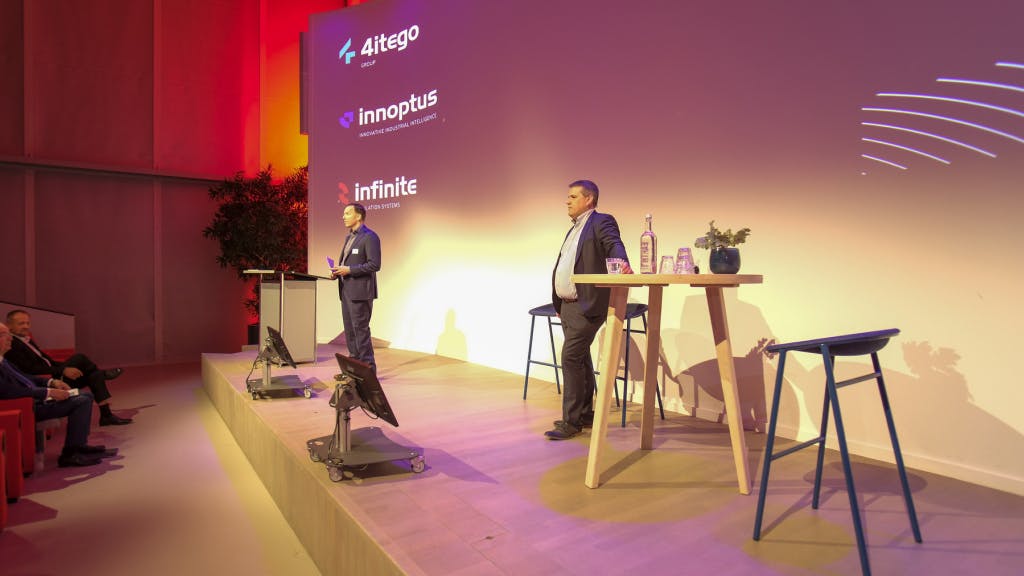 Event program
Robin van Raak & Xavier Werbrouck
Once Upon A future - Even if you are not interested in the future, the future is interested in you
Opening Keynote
Sustainability and the vision from the Software Industry & Accelerating a Sustainable Future With Simulation
General Keynote
Stuart Heavyside & Jim Chiamardas
Towards a zero carbon emissions, circular world: the symbiosis between green steel and digitalisation
General Keynote
Lunchbreak - food & drinks - networking
How to manage change processes in a growth company
General Keynote
The vision on digital transformation & Energy Transformation accelerated by Simulation
Breakout session 1
Brian Thompson & Rob Winstanley
Model-Based Systems Engineering accelerated
Breakout session 1
Energy transition, the chance of our lifetime
Breakout session 1
Martijn Dane & Daan Moreels
Product modularisation an essential step towards a sustainable product
Breakout session 2
Services: from bleeder to cash cow
Breakout session 2
Meindert Flikkema & Arno Eussen
SaaS transition: Why and what does it bring you as an organization
Breakout session 2
Robin van Raak & Xavier Werbrouck
Inspiring keynote sessions
Once Upon A future
Ruud Veltenaar
Trendwatcher & spectator
Summary
The world is not in a financial or economic crisis, but in a transformation to the next phase of our civilization. This transition affects almost everyone and has great influence on our lives and work. Ruud Veltenaar provides clarity about the future and offers concrete hope for a better world. Are you ready for the future and able to continue to make a difference even in turbulent times?
Sustainability and the vision from the Software Industry
Stuart Heavyside
Chief Partner Officer & Divisional Vice President - PTC
Summary
Manufacturers are waking up to a new reality: sustainability has vaulted to the forefront of their business initiatives. Companies are facing social and competitive pressure to meet the market demand. Organizations who may have previously resisted the perceived cost of sustainability are now scrutinizing the environmental impact of their products and processes. This includes examining their business and finding new ways to make their products and operations more sustainable.
Accelerating a Sustainable Future With Simulation
Jim Chiamardas
Vice President Sales, EMEA - Ansys
Summary
Sustainability decisions made early during product design affect businesses, impacting time to market, quality, and cost. Whether it's the materials selection, manufacturing process, and optimization, or the design tradeoffs, this is a multi-dimensional optimization where more often than not, the dataset used to make choices needs to be completed. Digital transformation is essential to solving complex engineering challenges.
Towards a zero carbon emissions
David Busstra
Marketing Manager Sustainability & Digitalisation - Tata Steel
Summary
Sustainability and digitalization will be increasingly linked in the future, particularly in the steel industry. David will dive into this topic by showing how digitalization can drive sustainability by optimizing energy use and reducing waste. The concept of "green steel" will also be explored, which will be produced using renewable energy sources like hydrogen. Green steel will have potential benefits such as reduced carbon emissions and increased energy efficiency. However, its adoption will require significant investment and regulatory support.
How to manage change processes in a growth company
Matty Paquay
Partner in Growth - Paquay & Associates
Summary
Human nature is conditioned on repetition and certainty. We are therefore naturally opposed to change. The economy, on the other hand, runs on change. The economic context forces companies to change. So does technological evolution. It is always a challenge for companies and organizations to get everyone on board in a change process. If anything, that challenge is even more significant for changes driven by technological evolution. Doing (or having to do) something differently because computer software dictates it requires much convincing. At the same time, technology can help make change processes transparent and monitorable. Research shows that a large proportion of change processes in companies never reach full completion. Why that is, and how companies can ensure that it does, is what the keynote "How to manage change processes in a growth company" is about.
To Excel
Gella Vandecaveye
Manager - PR & Sportconsulting
Summary
Gella brings a passionate story of her personal life on top sport, neck fracture injury, resilience, the conversion to entrepreneurship, the impact of corona and re-invention. It is a true testimonial which describes the similarities between top sport and the corporate world which includes elements like coaching, ambition, teambuilding, defeat, stress and motivation. Gella will share her own experiences with various examples covered with both humour and drama at the same time.
Exhilerating breakout sessions
Breakout session 1
The vision on digital transformation
Energy Transformation accelerated by Simulation
Brian Thompson
Divisional VP & General Manager CAD - PTC
Rob Winstanley
Senior Engineering Manager - Ansys
Summary
Digital transformation is a broad business strategy, applicable across all industries, to solve traditional business challenges and create new opportunities using technology. It requires acceptance of entirely new ways of working and delivering value to customers. Investment in digital transformation has been steadily growing; industrial companies are investing at least 5% of their annual revenue on digital transformation projects and are increasing budget every year.
The energy transformation can be accelerated through many digital technologies, simulation, and the digital transformation itself. We must improve the life-cycle efficiency of the production, conversion, and consumption of energy globally as more than 60% of it is wasted or lost along the way today. This life cycle of energy has only improved by 5% globally in the last 50 or so years.
Simulation has shown to be an incredibly effective tool to reduce material usage in design, help to mature manufacturing quickly, and improve the performance of many products (power use, emissions reductions, lower costs etc.).
Model-Based Systems Engineering accelerated
Olaf Kath
Senior Director R&D - Ansys
Mark Lobo
Senior Vice President, General manager of PLM Segment - PTC
Summary
Formalizing the development, integration, and use of models to inform enterprise and program decision making has been sighted by the aerospace and defense industry as a key priority and it is reflected in their strategies and goals. Increasingly, organizations are seeking model-based solutions that allow them to manage complexity, collaborate and communicate, reduce costs, and get products to market more quickly. Ansys & PTC solutions are used throughout the entire product life cycle, and they provide unique capabilities through a connected digital thread and Model Based System Engineering (MBSE).
The ramifications of manual, document-based system engineering approaches can be felt across the extended enterprise. Cost, quality, and safety issues stem from difficulties in sharing, maintaining, and re-using inconsistent information scattered between drawings, spreadsheets, and word documents. MBSE applies modeling, tools, and methods to improve your systems engineering programs and projects, spurring technological innovation and positively impacting costs and productivity.
Energy transition, the chance of our lifetime
The Power of Bottom-Up Innovation
Martijn Dane
Stack Development Manager - Battolyser Systems
Daan Moreels
Co-founder - Magnax
Summary - Martijn
Energy Transition is needed to safeguard the way of life on our beloved Earth, but the needed transformation will also bring opportunities if companies, universities and governments can transform, innovate and cooperate together in a sustainable way.
Summary - Daan
Why did it take so long for legacy automotive to follow Tesla's lead to go in the right direction? Why are technology startups usually the first to initiate "change" in the energy transition? How can big companies and startups help each other move the world closer to carbon neutrality? Relevant examples how cleantech innovation works.
Breakout session 2
Product modularisation an essential step towards a sustainable product
Thijs Schepman
Founder - Modular 5
Summary
In a world where circular products are in high demand by your clients a transformation is needed within your product design. A modular product is the corner stone for a sustainable product. Next to this it will get your engineering of the critical path and enables you to take full control of your product lifecycle!
Services: from bleeder to cash cow
Meindert Flikkema
Professor of Service Innovation Strategies - VU Amsterdam
Arno Eussen
CEO / founder - Profitable Services
Summary
Have you ever thought that services could be the strongest lever of sustainable and profitable growth in a manufacturing firm? And how to make this happen?
SaaS transition: Why and what does it bring you as an organization
Brian Thompson
Divisional VP & General Manager CAD - PTC
Summary
Over the long term (say 5-10 years), we believe SaaS will become the dominant deployment methodology for engineering software. We know that our large base of Creo and Windchill customers want to embrace the power of SaaS, but we know they don't really want to switch tools, either. As such, PTC plans to have two different SaaS application suites: For our customers, our strategy is to deliver the benefits of SaaS with no disruption to the way they use those products today. Forward compatibility will be our "north star" and we expect the user experience to be seamless.